Yes, I know that the term "IWMS systems" is an example of RAS syndrome. (RAS is an acronym for "redundant acronym syndrome.") So, IWMS systems is as redundant as "ATM machine."
Now, many style guides advise against using of these redundant acronyms, but they continue to be widely used in colloquial speech. And this blog post was inspired by an American author who used colloquial rather than formal language to define his characters and make them seem like "real" people who told the truth, mainly.
Besides, most of us think that IWMS systems are newfangled ideas. But, if I could add one book to your summer reading list, then it would be Life on the Mississippi by Mark Twain. Published in 1883, this memoir by Samuel Langhorne Clemens recounts his unforgettable journey learning to become a steamboat pilot on the Mississippi River before the American Civil War. With great affection, he describes the science of navigating the ever-changing Mississippi River along with some tall tales about his time as a "cub" of an experienced pilot, Horace E. Bixby.
Twain, I believe, would have felt right at home in our sector, profession, and time. If you get the opportunity, read Life on the Mississippi for yourself this summer and look for a couple of his humorous stories that are worth re-telling to your colleagues and other stakeholders on your campus this fall.
Let's start with the unstoppable force that shapes this book: the river.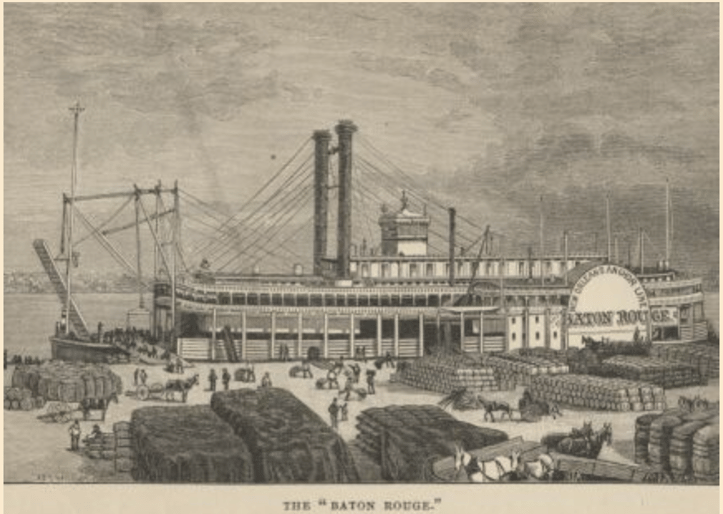 In Chapter 1, Twain writes, "The Mississippi is well worth reading about. It is not a commonplace river, but on the contrary is in all ways remarkable. Considering the Missouri its main branch, it is the longest river in the world--four thousand three hundred miles. It seems safe to say that it is also the crookedest river in the world, since in one part of its journey it uses up one thousand three hundred miles to cover the same ground that the crow would fly over in six hundred and seventy-five."
As a pilot's apprentice in 1857, he had to learn "this troublesome river BOTH WAYS" – because the Mississippi was a different river coming up-stream than it was going down-stream when "a boat was too nearly helpless, with a stiff current pushing behind her."
Twain added, "The Mississippi is remarkable in still another way – its disposition to make prodigious jumps by cutting through narrow necks of land, and thus straightening and shortening itself. More than once it has shortened itself thirty miles at a single jump! These cut-offs have had curious effects: they have thrown several river towns out into the rural districts, and built up sand bars and forests in front of them. The town of Delta used to be three miles below Vicksburg: a recent cutoff has radically changed the position, and Delta is now TWO MILES ABOVE Vicksburg."
A supporting player in this saga is the steamboat.
In Chapter 4, Twain says the people in a town along the Mississippi River would "all go hurrying from many quarters to a common center, the wharf," as soon as they heard, "S-t-e-a-m-boat a-comin'!"
He continued, "Assembled there, the people fasten their eyes upon the coming boat as upon a wonder they are seeing for the first time. And the boat is rather a handsome sight, too. She is long and sharp and trim and pretty; she has two tall, fancy-topped chimneys, with a gilded device of some kind swung between them; a fanciful pilot-house, a glass and 'gingerbread', perched on top of the 'texas' deck behind them; the paddle-boxes are gorgeous with a picture or with gilded rays above the boat's name; the boiler deck, the hurricane deck, and the texas deck are fenced and ornamented with clean white railings; there is a flag gallantly flying from the jack-staff; the furnace doors are open and the fires glaring bravely; the upper decks are black with passengers; the captain stands by the big bell, calm, imposing, the envy of all; great volumes of the blackest smoke are rolling and tumbling out of the chimneys – a husbanded grandeur created with a bit of pitch pine just before arriving at a town; the crew are grouped on the forecastle; the broad stage is run far out over the port bow, and an envied deckhand stands picturesquely on the end of it with a coil of rope in his hand; the pent steam is screaming through the gauge-cocks, the captain lifts his hand, a bell rings, the wheels stop; then they turn back, churning the water to foam, and the steamer is at rest."
Twain concluded, "Then such a scramble as there is to get aboard, and to get ashore, and to take in freight and to discharge freight, all at one and the same time; and such a yelling and cursing as the mates facilitate it all with! Ten minutes later the steamer is under way again, with no flag on the jack-staff and no black smoke issuing from the chimneys. After ten more minutes the town is dead again."
But, the star of this memoir is the pilot.
In Chapter 7, Twain tells Bixby's story, an experienced pilot who could "look at the river" and see things that other pilots might miss. Bixby would then call for the leadsmen to sound the depth of the river and understood the significance of something that I had learned, but forgotten: "When the river bottom was only two fathoms, or twelve feet, down, he would hear the lusty cry 'by the mark twain.'"
Then, Bixby would "set a lot of bells ringing, shouted through the tube, 'NOW, let her have it – every ounce you've got!'" He'd put his wheel down and successfully navigated past unseen dangers.
Twain explained, "Fully to realize the marvelous precision required in laying the great steamer in her marks in that murky waste of water, one should know that not only must she pick her intricate way through snags and blind reefs, and then shave the head of the island so closely as to brush the overhanging foliage with her stern, but at one place she must pass almost within arm's reach of a sunken and invisible wreck that would snatch the hull timbers from under her if she should strike it, and destroy a quarter of a million dollars' worth of steam-boat and cargo in five minutes, and maybe a hundred and fifty human lives into the bargain."
He added, "The last remark I heard that night was a compliment to Mr. Bixby, uttered in soliloquy and with unction by one of our guests. He said – 'By the Shadow of Death, but he's a lightning pilot!'"
So, what are the lessons that a director of facilities at a college or university can learn from Twain's stories about Life on the Mississippi?
First, we can learn an important lesson about the constantly changing challenges you face every day.
Maybe someday in the future, your job will transform into making the trains run on time over a fixed set of tracks. But, today, it's more like learning "this troublesome river BOTH WAYS." This metaphor might help you explain to the leaders and other stakeholders on your campus why you need to work with an IWMS vendor who is not only dedicated to continued innovation, but also constantly listening to your feedback and ideas for improving their current products.
Second, we can learn an important lesson about integrated workplace management systems.
If your higher education institution has an infrastructure that's more complex than a Mississippi riverboat, then you need a single, unified software platform that provides an extensive range of capabilities, including: Real Estate and Property Management, Space Management, Operations and Maintenance, Capital Planning and Project Management, and Energy Management. Anything less isn't going to help you avoid the obstacles, seize the opportunities, and back home by six.
Third, we can learn an important lesson about the facility management profession.
A director of facilities at a college or university needs to be "a lighting pilot." If the rate of change in our sector isn't slowing down in the foreseeable future, then all of us need to master "the marvelous precision required" to help our institution pick the "intricate way through snags and blind reefs" that could "destroy a quarter of a million dollars' worth of steam-boat and cargo in five minutes, and maybe a hundred and fifty human lives into the bargain."
These are just three of the lessons that you can learn from Mark Twain's stories about Life on the Mississippi. There are others, of course, in this 624-page book. For more lessons, subscribe to this blog, and receive the eBook: "Implementing an IWMS: An Insider's Guide for the Facilities Executive."
Or, contact one of the experienced members of the higher education team at AssetWorks and tell him or her that you've got lots of questions. Even if they are currently located in the US and Canada, the UK and Ireland, or Australia and New Zealand, they wouldn't look out of place (or time) in the pilothouse of a Mississippi riverboat.
---
About Greg Jarboe
Greg Jarboe is the president and co-founder of SEO-PR, which has provided services to the University of the Pacific, the University of Pennsylvania, Rutgers University, and Dickinson College. Greg has been an instructor in several Rutgers Business School Mini-MBA programs.
Greg graduated from the University of Michigan, which was founded in 1817, but spent his junior year at the University of Edinburgh, which was founded in 1582, making it one of Scotland's ancient universities and the sixth oldest university in the English-speaking world. That's when he had his first bite of haggis at a Burns Supper.