Part 1: Featuring the APPA Award-Winning Team at Oklahoma State University
OVERVIEW
Oklahoma State University (OSU) Facilities Management earned the prestigious APPA 2017 Effective and Innovative Practices Award, recognizing their NEXT LEVEL PROJECT for improving customer service, accountability, and efficiency in Facilities Management. The NEXT LEVEL initiative began in 2013; the eighteen-month journey that followed brought many positive changes to the organization, including the implementation of an Integrated Work Management System (IWMS) to support the newly organized department with more transparent, streamlined, and cost-effective processes.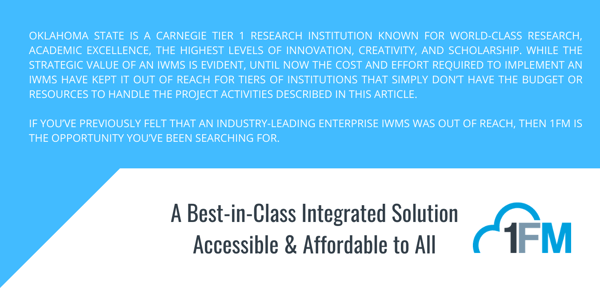 Many facilities executives invest in an IWMS with the expectation that it will transform their department into a more efficient, streamlined organization with valuable metrics and financial reporting at their fingertips. You should expect these results. Careful planning, review and consideration of existing processes, a time investment from key individuals, and total support from leadership must accompany the implementation to ensure success.
Five years after OSU's IWMS implementation, this is a look back at the OSU IWMS journey by Jenelle Feddersen, Manager of Business Operations at OSU Facilities Management and Cristina Wheless, AssetWorks Chief Operating Officer (then IWMS Consultant & Senior Project Manager for the OSU IWMS implementation).

This Story provides some unique tips and guidelines for the facilities executive considering implementing an IWMS, correlated to the five primary stages of the project lifecycle.

Project initiation generally focuses on establishing the value and feasibility of a project. A facilities organization implementing a new IWMS would be wise to dig a little deeper. OSU initiated the NEXT LEVEL project to help transform the department, which had been operating in the same manner for decades. An outside consulting firm was brought in to assess the organization and issued a report in March 2013.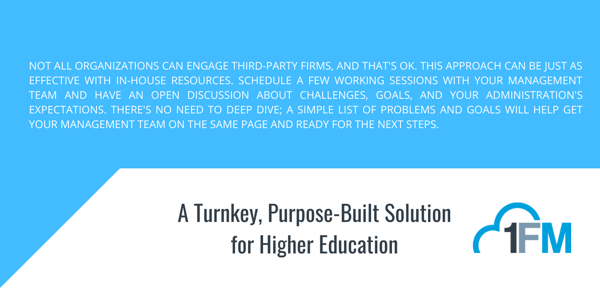 INITIATION
1. Define the Problem
Feddersen: "It was my understanding that (NEXT LEVEL was initiated because) we were not getting positive reviews from our campus community. The administration brought in a consulting firm to identify the things we were doing right, as well as the things that we could improve. How could we improve customer relations? How could we get jobs done more effectively? What did our organization need to focus on?"

Wheless: "The assessment aligned with many of the findings and recommendations I had made over the years at several institutions, including two noteworthy conclusions:
The problem wasn't people; it was process.
OSU already had an IWMS fully capable of supporting all the recommendations in the report; it was just not being used correctly."


2. Identify the Goals
Feddersen: "At a high level, there were several suggestions: 1) O&M should focus more on
preventive maintenance and maintenance documentation rather than customer-funded
projects. 2) We should get to know our customers by setting a zone-based shop/team
structure. 3) We needed to focus on transparency with a Guide to Services and better
information shared with customers along the way."

Wheless: "Guidance to achieve the NEXT LEVEL project goals varied from the strategic to the
tactical. I was delighted to see customer-facing recommendations to create a formal Guide to Facilities Services and to revisit service level agreements with auxiliary organizations. Imagine, defining ground rules, i.e., the much-needed handshake between Facilities and its campus community before implementing an IWMS, brilliant! Having these well-documented goals meant that we could begin planning activities the right way. We would start with customer policies and service level agreements that we could then support with the full capabilities of the IWMS."
In part 2 next week, we'll see how Jenelle and the OSU Facilities Team developed an executable plan to keep the project on time and on budget.